Sometimes people just piss me off. Here's where I describe them in abusive detail...
Intersection idiots: Most drivers in NZ have heard of the 'Road Code'. Apparantely it's best use is for lighting the fire on a cold winters' night, as there definitely seems to be a lack of evidence of it being applied on the road. Case in point; intersections. You'd think that parking your car in the middle of a set of traffic lights whilst vehicles travel past at the speed of light with horns blaring in the direction opposite to which you were just recently travelling might be in some small way a CLUE as to whether or not you ought to have ventured into the middle of the intersection when there was no way that your car could fit into the 3.2 inch gap left available on the other side. I'm fortunate enough to work in the immediate vicinity of one of the nastiest intersections in Auckland for this phenomena, and quite frankly it makes me want to start a political party with the sole election promise of legalising bonnet mounted 7.62mm XM214 6 barrel Mini-Guns (just like Blain used in Predator) and their consequent use for blowing away morons who can't distinguish the difference between an intersection and the parking lot at Pack N Save.
But it gets worse. There is a small proportion of bastards out there who manage to cock up driving through an intersection so badly that you end up being the one in the firing line. I'm talking about that special breed who manage to drive across an intersection towards a two car space, then park themselves with 17 feet of clearance in front of them, so that I, having carefully checked that there was enough space for both of us, end up with the back 2/3rds of my car in the direct firing line of an enraged Torana driver who has had just one too many double short-blacks that day...
Baby on Board stickers: While I understand the pride of parents in having children, I utterly fail to understand how the annoying little yellow and black sign in the back of their car window is supposed to impact positively on the universe. I'm confused as to what I'm supposed to do when I see one of these signs. Am I supposed to feel obliged to forcibly restrain myself from continuing to ram their car off the road (or through the intersection they parked in)? Am I supposed to bend Newton's first law of motion so that I miraculously avoid piling two tons of car into the back of their station wagon after they pull out in front of me from a driveway when I'm doing 100kph, just because they have a bit of coloured cardboard stuck to their back window? Or should I simply turn my engine off so that I don't wake baby up as I drive past? I tried this last approach, but it seemed to wreck my overtaking ability, so instead I've come up with an alternative solution: my own 'on board' sticker: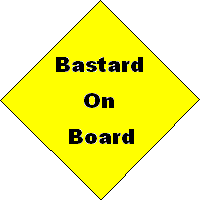 Primera drivers: Let's face it, if you drive something that looks like a shoebox, smells like a shoebox, is powered by something that approximates a hamster in an exercise wheel, and has a Nissan badge on the back of it, then you shouldn't be in the fast lane. Neither should you be cutting off every car in creation under the delusion that you're driving a high performance weapon that will leave your recently cut-off opponents in awe of your low-flying projectile. Nor should you drive behind me in with sometime that approximates an interference fit between your front bumper and my rear bumper, because I don't think that the hamster really has that brilliant braking force either. To be honest, it's probably a waste trying to drag me off at the lights, keep up with me on the open road, or out-sound me with your stainless steel Uncle Ben's exhaust, because you aren't driving a high tech race car, you're driving a badly constructed, underpowered, beam-axle equipped 4 banger piece of crap. Also bear in mind as you make that suicide plunge for the small gap that I was already moving into that I drive a 350HP weapon that weighs a lot more than your shoebox, and you will come off second best. And finally remember that "but I drive a Primera" is not considered a reasonable excuse by most insurance companies.
Urban Four-Wheel-Drives: Be honest - if you're a crap driver and don't feel safe on the road, what is the best approach to take?
1: Learn to drive a little better
2: Drive a two ton monster vehicle around whilst being a road hazard/petrol guzzling/moving roadblock all rolled into one.

Studies too numerous to mention have gone into the safety aspects of 4x4s and their likelihood of rolling over etc. I couldn't care less. If you want to drive something that's going to increase your chances of making a dick of yourself when you roll off the side of the road then that's fine by me. What I don't like is what the out of control battleship that you're driving is going to do to me when you screw up and hit me. All's fair on the road? You hit me, or I hit you, it's all even? OK, sure. How about this: the chances of a passenger dying in a side-on impact are 27 times greater if it's a 4WD hitting you than if it's another car(1). Let's put this another way...
If your driving is so inept that you feel you need to resort to a big safe 4WD so that you don't hurt yourself if you have a prang, you're 27 *TIMES* more likely to KILL someone else when you do get it wrong.

Unless you have a very good reason to be driving a 4WD in the city, don't. You just piss me and thousands of other people off.


(1) The Insurance Institute For Highway Safety - Feb.98 study and Nauss , Donald. April 5 1998. "Detroit Circles the Trucks; The big three defend sport-utilities and other hot sellers against an assault by regulators and environmentalists." Los Angeles Times. SectionD: Page 1.